Senior Member
iPod Touch App Reviews- Pandora, Tap Tap Revenge 2, Doodle Jump, and Many More!
---
Hello everyone, I sincerely apologize for not posting an app review last week; so, to make up for it, I'll be giving 2 to make up for last week, 2 for this week, and 2 extra for the heck of it! Are you excited? Then get a life. Kidding. Without further ado, here are the apps!
~Quinten Vaughan
Pandora
Let's start this extraveganzia with a bang, shall we? Well, not really bang, but with the only non-game app being reviewed today. For those of you who don't know what Pandora is, it's an online radio service, where you choose a favorite band or song, and Pandora automatically takes songs similar to that one... It's your own personalised radio service... And it's free! The website is
here
, but enough about that. This is about the application. So now that you know how the online service, how does this app play out? Well, compared to the online experience, the only downside to this app is that there is a delay between songs, but that is to be expected when using it wirelessly. You must be within range of Wifi to use this, or for iPhone users, you can pretty much use it anywhere. One feature I like that wasn't really that expected is that you can actually put your iPod into Sleep mode, and still have the music play through the iPod's speakers (Which, by the way, is awesome with this app. It's the same quality as music you download directly to your iPod.) or headphones. If you enjoy the online service, love music, or both, then I highly recommend this app, especially because it's free.
Price of App at Reviewing Time: Free
★★★★
4/5 Stars
Tap Tap Revenge 2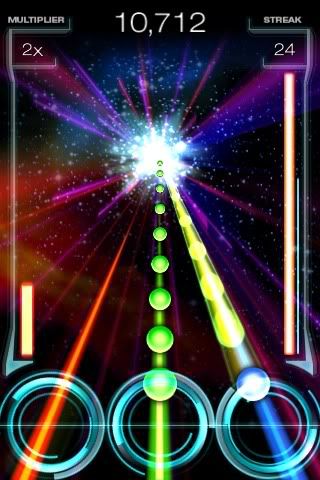 While we're still on the topic of music, I think right now would be the perfect time to roll out the music app of the day; Tap Tap! This is one of my most played apps right now, and I must say, it's really good. Now, what could I compare this game to? Little colored notes scroll down a 'highway' of sorts, to be pressed at the correct time in beat with music... If you haven't figured it out by now, it's Guitar Hero for the iPod Touch! This is really a spectacular game; it's free, the music is free (Well, most of it.), and it adds a few things to the table, like motion controls. And arrow pointing left coming down the highway? Jerk it in tune with the music. The online mode is pretty cool too, with rankings, and everything. There's a ton of cool music on there, ranging from unknown songs, to popular current songs. There's really something for everyone in this game, so I suggest you download it and try it out... It's free, so what do you have to lose?
Price of App at Reviewing Time: Free
★★★★★
5/5 Stars
Civilization Revolution
Wiispace... Prepare to be addicted. No, I am serious. Civilization Revolution is a portable version of the Civilization games, where you take control of a civilization, and, well, take over the world. Or not. World domination is but one of many goals, like building so many monuments, or collecting so much money... Oh, and there are other civilizations for you to look out for, which range from the Russians, to the Chinese, each connected to a great leader from their civilization. That mean the United States gets Lincoln, and Ghandi from India. There are so many facotrs to the game. There is a free lite version, so you can try it before you buy it, but it's a pretty cheap price for a game like this... If this were on the Playstation Network, I'd say they'd charge $15 or $20 for it. My only problems? After you finish a game, you can't continue, and get the other victories, and after one game, I felt like I was done. Oh, and the graphics engine slipped up several times. Overall, this is up to you. This definitely has a SimCity feel to it.
Price of App at Reviewing Time: $4.99
★★★★
4/5 Stars
Moto X Mayhem
Well, this is THE dirt bike game for the iPod Touch; and by that, I mean a game like
this one.
To play, you hold the iPod or iPhone sideways, and press on the right edge of the screen to go, while pressing the left side will activate the brakes. To lean forward, simply tilt the machine right, and when you tilt left, you lean backwards. It's a very easy-to-get-used-to game, but it is VERY difficult. You can practice all 7 courses at any time, but to keep your time registered, and to have your high scores saved, you have to get through all 7 levels. On 5 lives. It's VERY difficult. Even I haven't done it yet. Also, there are only 7 courses, and it only covers part of the island the game is set on, so I would assume there are more levels being made, which is great, because the shortage of levels was one of my complaints. This game will pay for itself the first time you play the game, and I suggest all fans of this type of game, and newcomers to this niche decide to download; it's a steal at the price it's at!
Price of App at Reviewing Time: $0.99
★★★★★
5/5 Stars
Pocket God
This is a game anyone can enjoy, and I am serious about this. The other night, my mom was having fun with this game, and she isn't really that much of a gamer. So, as told by the title of the game, you are the God of this Pocket-sized game. You hold your finger on a little person (Called Pygmies), and drag it across the screen, and they are pulled up by their towering hair, and wherever you tug them, they follow, against their will, I might add. You can do the same thing with a shark that comes by, only when you whack it past a Pygmy, it falls into the water, and if you drop it over one of their heads, it latches on, and they eventually fall back into the water. You swipe your finger across the sky, and it suddenly gets stormy. Drag your finger from the stormy clouds to a Pygmy, and it gets zapped. Tons of things can happen in this game. And new stuff is added weekly. I'm dead serious. Last week, we got pirahanas, and the week before, we got a minigame where you drag a Pygmie up into the clods, then it bounces off of them, sort of like the game below, but not nearly as fun. Overall, this get my approval, and it should be part of your must-have collection of apps.
Price of App at Reviewing Time: $0.99
★★★★
4/5 Stars

Doodle Jump
Doodle Jump... It's the only game to recieve 6/5 stars. Yes, it's that good. It is my most-played and favorite application ever on here, and will likely stay that way. It's that good. You're a doodle, and you have to jump. That's the premise of the game. Some move, some explode, and there are even power-ups along the way. I really think this game deserves some sort of award... It's so simple, yet it'll keep you entertained for hours, whether in short bursts, or long sittings, this game will be enjoyable.
Price of App at Reviewing Time: $0.99
★★★★★★
6/5 Stars

__________________
---
Last edited by SuperQ; 08-25-2009 at

09:50 PM

..