Every Retro Review will be posted here in sequence.
Blast To The Past Review #1- Zombies Ate My Neighbors(SNES)
Quite possibly one of the best game covers ever.


Zombies Ate My Neighbors simply just doesn't get enough credit. This game is an absolute blast, whether single player OR co-op. The point of the game? Just as the title implies, there are zombies who want to eat your neighbors brains. You find them, you rescue them, while destroying every undead ghoul on the way. After rescuing them, you must go inside some exit doors to proceed to the next level.
Hmm…that kinda sounds like…
Oh yes. I just made the comparison. Zombies Ate My Neighbors surely is far from being scary at all, but the fact that theres a TON of undead ghouls coming after you at all times in every level, with all kinds of other "special" crazy demonic forces out there, such as the crazy little WOO HA HA HA HA HA dolls that have GIANT axes just wanting to end you. Put a classical horror MIDI soundtrack together with this crazy little game, and BOOM! You've got your first version of Left 4 Dead right here…of course, the arsenal in the games are completely different.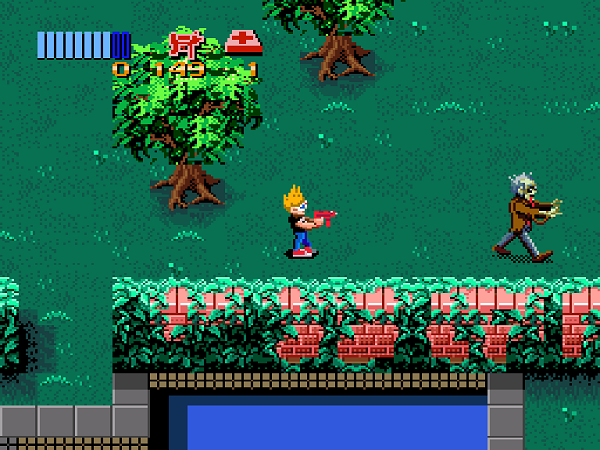 Note to Self : Stock up on Super Soakers and bottled water for the zombie apocalypse.
The arsenal in this game is hilarious. You start off with a water gun, which is the absolute bread and butter of your zombie killing ways in this game. You also have your choice of soda pop cans, plates, forks, popsicles, tomatoes, lawn mower, crucifix, and many more items. Yes. Popsicles can kill zombies. I assume they're frozen knives…or maybe zombies are allergic to them.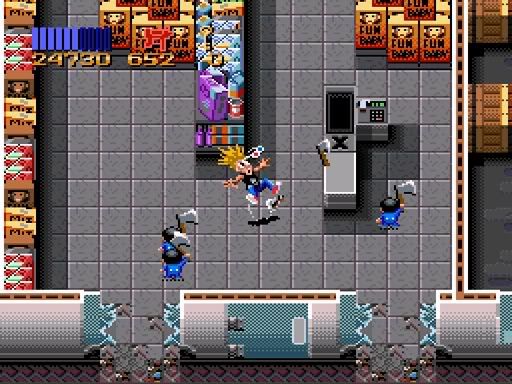 Little kids with giant axes in a grocery store…what happened to their parents?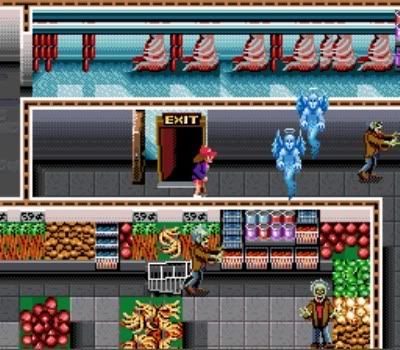 Oh…there they are.
Where would a zombie game be without some boss fights? EPIC boss fights? ZAMN delivers on every boss fight in the game. They are never an easy fight, and will always be pushing you to the top of your game every time you meet them. Now…how epic are these boss fights? Observe…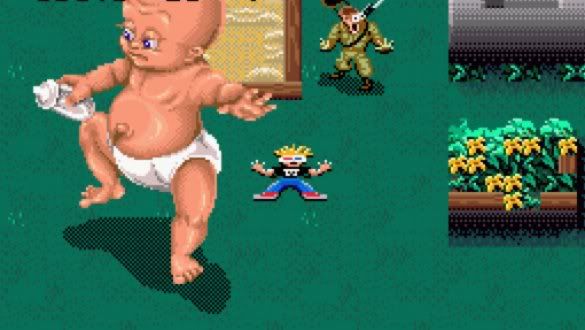 This is one baby that should've been aborted.
Giant babies. That shoot you with a giant baby bottle. And also trample on you. THAT epic. C'mon…when do you EVER get to spray a baby with a water gun, or use a crucifix on them? THAT IS BEYOND AWESOME! YOU CAN DESTROY THE TODDLER RACE IN THIS GAME!! This game is sure to offend any true pro-lifer out there, which even adds more beauty to this already perfect game.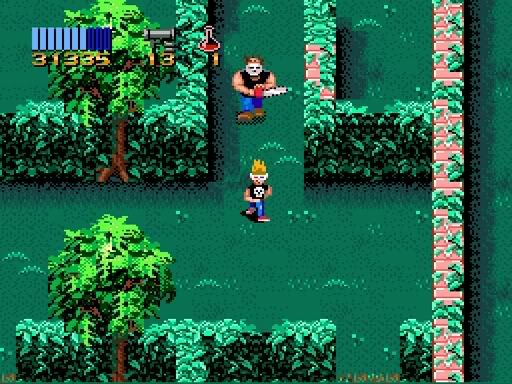 Easily the most proficient killer in this game; The Chainsaw Maniac.
Now, when I say this game doesn't get enough credit, I mean it. Every time I say, "Hey, do any of you remember Zombies Ate My Neighbors?", I get the very unsatisfying "no" answer. How does a game as awesome as this get passed up, and not experienced ever? If I was a dev looking to make a little bit of bank, I'd totally remaster this game and put it up on the DLC market. Not only to BANK mad bucks, of course, but to put this game back out there for the world to experience.
If you haven't checked out this game, and you have a SNES or Sega Genesis laying around…snoop around for a copy of this game. I'm telling you…it will change your life.